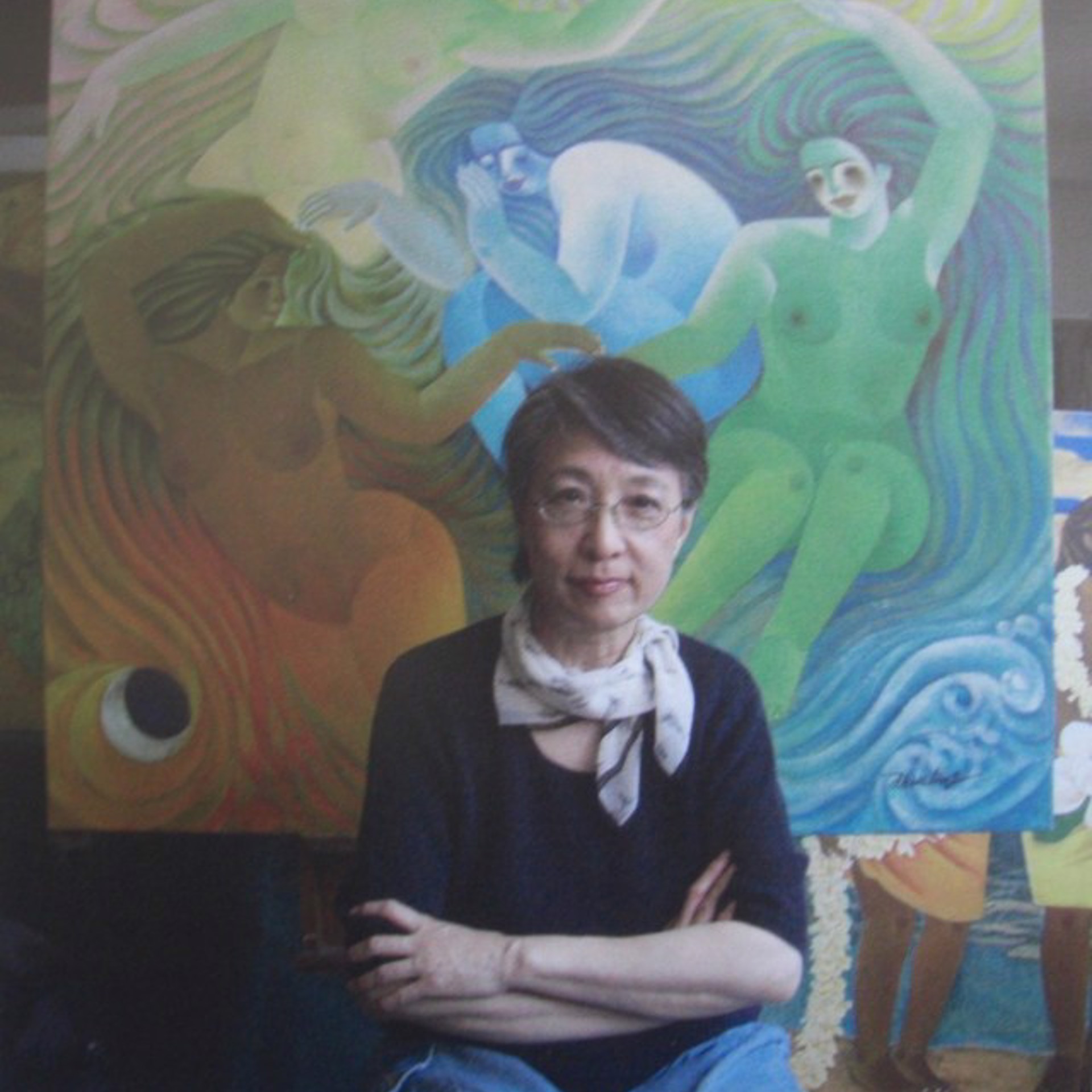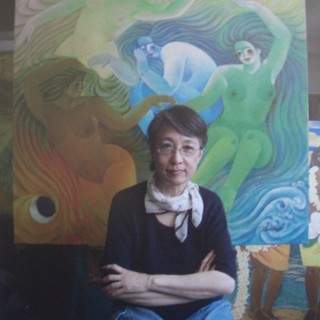 Renowned as one of the leaders in the Yunnan School of Art, an avant-garde art moment that revolutionized Chinese painting in recent history, Zhou Ling has successfully brought together the techniques and subject matter of ancient Chinese art with those of classical Western art. Her oil and acrylic paintings are her personal vision of a perfect, fantastic world with a harmonious balance between mankind and nature.
Born in 1941 in the city of Tian Jinn in China, Zhou Ling was accepted into the prestigious Central Institute of Nationalities in Beijing, where she studied traditional Chinese painting and was also introduced to the art of Van Gogh, Degas, Monet, Gauguin and Picasso. From Renaissance to contemporary, Zhou Ling was deeply inspired by Impressionism and Cubism.
After graduating, Zhou Ling was assigned to teach art at the Institute of Art and Culture in Yunnan, a province in southern China where most of the population is made up of minorities. Zhou Ling was deeply impressed by the beautiful tropical scenery as well as the people and local culture of Yunnan. She began to paint the minority nationals of Yunnan in her unique artistic style, finding inspiration in the women and children, whom she depicts among poetic scenery and tropical jungle, painting faces full of joy. In fact, her experience in Yunnan became the foundation of her artistic style.
In 1973, Zhou Ling returned to Beijing to become an instructor at the Central Institute of Nationalities, where she began to study with painter Huang Yong Yu, the creator of China's contemporary art movement characterized as "Yunnan School of Art" or "Rich Color Paintings"). Led byHuang Yong Yu, Zhou Ling and other Beijing painters such as Ting Shao Kwang and Jiang Te Feng studied intensely to master the techniques of rich color painting. A new era in Chinese painting was born and Yunnan School of Art was introduced to the world.
In 1991, Zhou Ling made her first visit to Hawaii. She loved the Islands as much as she loves Yunnan. The bird of paradise, ginger, heliconia and flower leis are familiar, and the spirit of Aloha captures her heart. Much of her work since then depicts Hawaiian culture and landscapes. She received commission form the famous Grand Wailea Resort to paint "Sun", "Moon" "Water", "Fire" and "Aloha" for its grand opening in Nov. 1991. Several of her serigraphs and original paintings decorate the 747 guest rooms.
There is a wondrous energy, freshness and beauty exploding from Zhou Ling's canvas. Paying tribute to the uniqueness of the Hawaiian culture, each painting shows us, in a simple glance, the spirit of Aloha.
Today, Zhou Ling continues to create works in celebration of nature and of mankind. Her subject matter and inspiration are derived from her rich cultural heritage and the ethnic minority groups of her homeland. Her female figures are painted with graceful beauty. The figures are not depicted "Eastern" or "Western," but simply envelope humanity. Her work seeks to show harmony between people and nature, and reality and fantasy. In her paintings, she seeks to illustrate the beauty of a strong emotion, an imposing strength and eternity.